Personal | 10 Happy Thoughts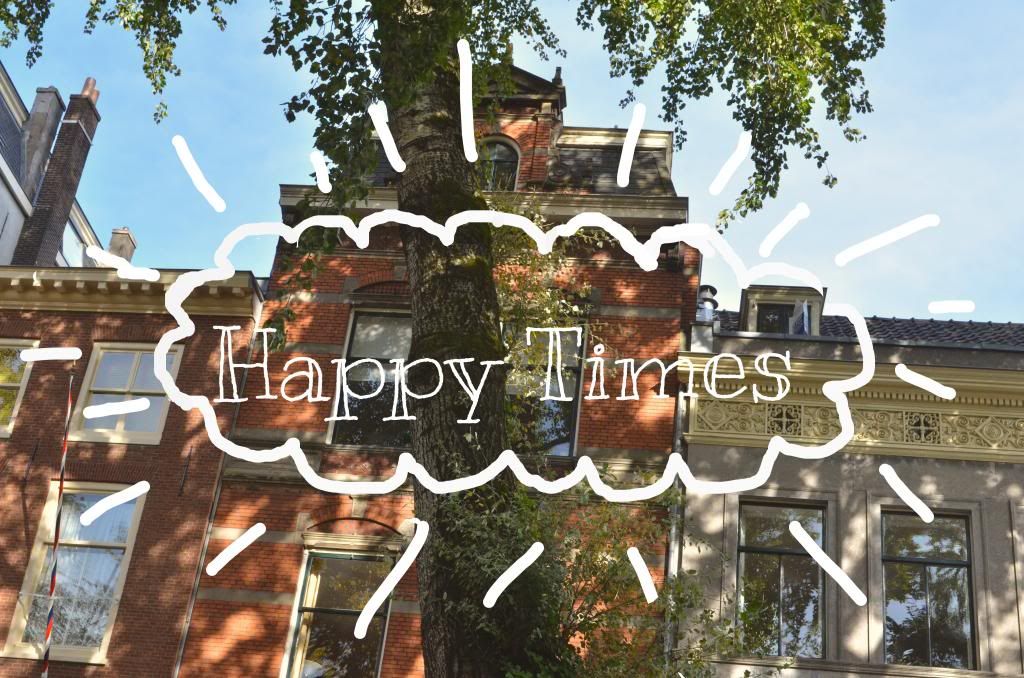 Okay, I must admit. Sometimes I just avoid looking in my diary, simply because I don't want to see what is in it. Oh, mid-term test for my driving license (how do you call this in English?) in two weeks, cambridge exams in just a little more month and Hmmm, then it is about time for my final exams. Yes, when I look at my calendar and see that (* warning this information might cause stress *) we have only 12 (!) weeks left to the final exams, then it is time to just quietly sit down in front of the computer and 'write' down 10 positive thoughts. Are you in?
Oke, ik moet het toegeven. Soms dan loop ik snel voorbij mijn agenda. Oh, tussentijdse toets over twee weken, cambridge examens over een klein maandje en pfoeh, dan komen ongeveer de examens er al weer aan. Ja de spanning begint al flink op te lopen en als ik dan in m'n agenda kijk en zie dat (*warning this information might cause stress*) we nog maar 12 (!) weken hebben tot de examens, dan is het tijd om even rustig achter de computer te gaan zitten en 10 positieve gedachtes op 'papier' te zetten. Doen jullie mee?
1 Finding out that there is a cute little booth with (dried) fruits and vegetables in front of the IKEA. Dried turnip, mulberry berries and coconut lumps are my favorites.
1 Er achter komen dat er voor de IKEA een ontzettend leuk kraampje staat met allerlei soorten (gedroogd) fruit en groente. Gedroogde koolraap, maar ook de moerbei bessen en de kokos klontjes zijn favoriet. (Wie had dat kunnen bedenken?!)
2 Reading the comments on a new article and having a big smile on your face because of it. Even if I've been away for a while you continue to be nice to me! :)
2 Met een grote glimlach op je gezicht de reacties op een artikel lezen. Zelfs als ik een tijdje weg ben geweest blijven jullie lief voor me! :)
3 Thinking you've made a test very bad (* English listening test ugh, ugh*), but getting a sufficient result.
3 Denken dat je een willekeurige toets (*Engels luistertoets ugh, ugh*) heel erg slecht hebt gemaakt en vervolgens een voldoende halen.
4 Finally being able to see the floor again after living in a strorage space/dump. Hello clean room!
4 Na een lange tijd in een soort opslag ruimte/vuilnisbelt te hebben geleefd de vloer weer kunnen zien. Hello clean room.
5 When you realize that you are in London (or you have been).
5 Je realiseren dat je in Londen bent (geweest).
6 Thinking about what to do after the exams, hello über long holiday!
6 Nadenken over wat je gaat doen ná de examens, hello über lange vakantie!
7 For the first time a pomegranate try to prepare and very glad that the Internet is just a roadmap on how to find the fruits (?) Beats out there!
7 Voor het eerst een granaatappel proberen klaar te maken en ontzettend blij zijn dat er op internet gewoon een stappenplan te vinden is over hoe je de vruchtjes (?) er uit slaat!
8 Having an evening with friends and good food. (What's better than that?)
8 Een avond met vriendinnen en lekker eten. (What's better than that?)
9 Preparing for Valentine's Prom. (and finally being able to try out that non-nude eye look)
9 Je klaar maken voor een Valentijn's Gala en éindelijk die niet-nude ooglook kunnen proberen.
10 When you realize that it is almost a holiday!
10 Je realiseren dat het al bijna vakantie is!