My vacation reads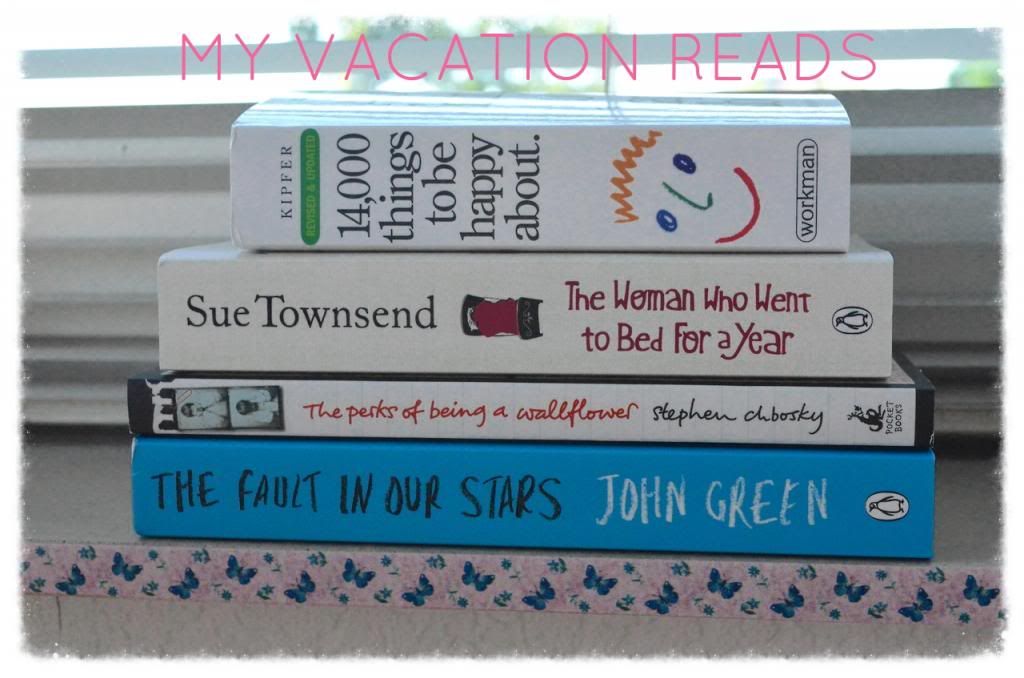 Ik heb aan het begin van de vakantie een deal met mezelf gemaakt dat ik deze vakantie minstens vijf boeken ga lezen. Voor sommige klinkt dit misschien als een dagtaak, maar voor mij is dit toch al een hele hoop. Ik neem er simpelweg nooit de tijd voor om me helemaal van alles af te sluiten met een goed boek. Daar gaat de telefoon weer, toch even kijken wie het is. En dan staat er weer iemand voor de deur, eventjes opendoen en dan is het al weer tijd om even een hapje te eten. Tsja, ik geef het toe: ik ben er niet goed in! Maar dat neemt niet weg dat ik het niet leuk vind. Daarom heb ik ter motivatie vier engelse boeken gekocht die al een tijdje bovenaan mijn 'to-read-wishlist' stonden en het leek me wel leuk om die met jullie te delen.
In the beginning of the vacation I made a deal with myself that I was going to read at least five books within the seven weeks of my summer holiday. For some of you this might sound like an easy job, but for me this is actually quite challenging. I simply never take the time to have some me time. The phone might ring, or I might have to open the door and after that, a nice meal would be good. I must admit, I am not good at reading at all, but that doesn't mean that I do not like it. Because I do. That is also why I bought four English books, to motivate myself to read them all within these seven weeks. These four books were on my 'to-read-wishlist' for like forever, so I thought it would be fun to share them with you!
14000 things to be happy about -
What bol.com says: 14,000 Things To Be Happy About is the mesmerizing bestseller that celebrates all the little things that make life worth living. Any random page is an instant pick-me-up, and reading it is as irresistible as popcorn. It includes: new babies; a well-crafted chair; having a sense of your own space; a real person answering the phone; peninsulas; leaves snuggled around the foundations of old country houses; and staying home on New Year's Eve. Now revised and updated, with 1,500 new entries - the feel of the fur in Ugg boots, a favourite television program. 14,000 Things To Be Happy About is a panacea for a new time and a new generation, an antidote to the all-too-many things we might be unhappy about.
Wat ik denk: Ik zat me al een tijdje te verlekkeren over dit boek, het leek me echt een boek voor mij, geen random verhaal zoals in de meeste boeken, maar kleine quotes die een lach op je gezicht kunnen toveren. Althans, zo komt het boek over. Toen ik het boek binnenkreeg was ik echter een klein beetje teleurgesteld, het boek is niet zo mooi vormgegeven als ik had gedacht (het zijn gewoon opeenvolgende zinnen die, zonder een punt, met een enter, uit elkaar zijn gehouden. Bovendien wordt er in het boek veel gebruik gemaakt van Engelse tradities, spreekwoorden en dieren/planten waarvan ik de naam in het Nederlands nog niet eens weet. Een woordenboek is dus een goede aankoop bij dit boek. Ik denk dat ik dit boek niet 'uit' ga lezen deze vakantie, maar dat ik hem bewaar voor over een jaartje of twee, wanneer mijn Engelse vocabulaire een beetje is uitgebreid. ;)
What I think: I was drooling over this book for quite a while now, because I felt like this one was definitely something for me. Not just a random book with a story like most books, but a book filled with quotes that can put a smile on your face. At least, that was how I looked at the book before buying it. As soon as it arrived I was a little disappointed, the book is not as well designed as I had hoped (the pages are build by simple sentences separated by an enter. (not even a dot!) Moreover, in the book they use a lot of English traditions, idioms and plants and animals of which I don't even know the names in Dutch. A dictionary is therefor a good thing to keep in mind when you are buying this book. I do not think I am going to read this book this holiday, but maybe when I have improved my English again, I will try it again!
The woman who went to bed for a year - Sue Townsend
What bol.com says: The day her gifted twins leave home for university, Eva climbs into bed and stays there. For seventeen years she's wanted to yell at the world, 'Stop! I want to get off'. Finally, this is her chance. Perhaps she will be able to think. Her husband Dr Brian Beaver, an astronomer who divides his time between gazing at the expanding universe, an unsatisfactory eight-year-old affair with his colleague Titania and mooching in his shed, is not happy. Who will cook dinner? Eva, he complains, is either having a breakdown or taking attention-seeking to new heights. But word of Eva's refusal to get out of bed quickly spreads. Alexander the dreadlocked white-van man arrives to help Eva dispose of all her clothes and possessions and bring her tea and toast. Legions of fans are writing to her or gathering in the street to catch a glimpse of this 'angel'. Her mother Ruby is unsympathetic: 'She'd soon get out of bed if her arse was on fire.' And, though the world keeps intruding, it is from the confines of her bed that Eva at last begins to understand freedom.
The Woman Who Went to Bed for a Year is a funny and touching novel about what happens when someone stops being the person everyone wants them to be. Sue Townsend, Britain's funniest writer for over three decades, has written a brilliant novel that eviscerates modern family life.
Wat ik denk: De titel klinkt interessant, ik verwacht dat het een boek is met een kritische blik op de 'normale' dagelijkse dingen. Persoonlijk ben ik echt gek op boeken waar een soort van psychologische of filosofische twist in zit. Bovendien heb ik erg positieve reviews gelezen over dit boek waarin werd gezegd dat het een boek is waarbij je af en toe in je broek piest van het lachen, heerlijk dus voor de vakantie, ik ben benieuwd!
What I think: The title sounds very interesting. I expect that this is a book with a critical look at 'normal' everyday things. Personally, I really love books where there is a kind of a psychological or philosophical twist. Above that, I have read very positive reviews on this book, which said that it is written in a very funny way. Which seems to make this book perfect for the holidays, so I am curious!
The perks of being a wallflower - Stephen Chbosky
What bol.com says: Charlie is a freshman. And while he's not the biggest geek in the school, he is by no means popular. Shy, introspective, intelligent beyond his years yet socially awkward, he is a wallflower, caught between trying to live his life and trying to run from it. Charlie is attempting to navigate his way through uncharted territory: the world of first dates and mixed tapes, family dramas and new friends; the world of sex, drugs, and The Rocky Horror Picture Show, when all one requires is that perfect song on that perfect drive to feel infinite. But Charlie can't stay on the sideline forever. Standing on the fringes of life offers a unique perspective. But there comes a time to see what it looks like from the dance floor. The Perks of Being a Wallflower is a deeply affecting coming-of-age story that will spirit you back to those wild and poignant roller-coaster days known as growing up.
Wat ik denk: Stiekem heb ik de verfilming van het boek al gezien en stiekem ben ik ook al begonnen met lezen, dus voor een hypothese is het een beetje te laat. Maar benieuwd naar dit boek was ik zeker. Door de verfilming stond het boek natuurlijk in een klap in de top met Engelse boeken, maar zelf had ik er eigenlijk, voordat ik de filmtrailer, nog nooit van gehoord. Nu ik begonnen ben met lezen kan ik zeggen dat het zeker geen random Amerikaans high school verhaal is. Natuurlijk speelt het verhaal zich grotendeels daar wel af, maar onderwerp van het boek is echt Charlie, die de wereld probeert de begrijpen. Hij stelt zich heel onbenullig en wereldvreemd op, waardoor hij nog wel eens in vrij ongemakkelijke situaties beland. Maar juist die naïviteit maakt dat je compassie voelt voor Charlie. Bovendien is het verhaal opgebouwd uit brieven die Charlie naar een (niet bestaande ?) vriend schrijft, die vragende manier van schrijven kan ik persoonlijk wel waarderen.
What I think: To be honest, I might have already seen the movie and I might have also already started reading. So it is a bit to late to give you a hypothesis, but I was definitely very curious to this book. Because of the movie the book lately got a lot of attention from the media, which was also how I found out about the book. It was most often described as 'not an usual American high school story.' And I can agree to that. Of course the story takes place at a high school, but that is mainly because it is the perfect decore for the real subject: a pretty naive boy trying to understand the world he lives in. Charlie is pretty naive which brings him into many pretty awkward situations. But it is his naivety that makes you feel compassion towards him. Moreover, the story is made ​​up of letters which Charlie writes to a (nonexistent?) Friend, which makes it very personal to read.
The fault in our stars - John Green
What bol.com says: Despite the tumor-shrinking medical miracle that has bought her a few years, Hazel has never been anything but terminal, her final chapter inscribed upon diagnosis. But when a gorgeous plot twist named Augustus Waters suddenly appears at Cancer Kid Support Group, Hazel's story is about to be completely rewritten.
Insightful, bold, irreverent, and raw, The Fault in Our Stars is award-winning author John Green's most ambitious and heartbreaking work yet, brilliantly exploring the funny, thrilling, and tragic business of being alive and in love.
Wat ik denk: Ondanks ik niet zo'n lezer ben, volg ik wel al een tijdje verschillende 'booktubers' en als ik een modern boek zou moeten noemen waar iedereen ontzettend enthousiast over is, dan is dat zeker 'the fault in our stars' geschreven door John Green. Het boek werd beschreven als een emotionele achtbaan, waarin je zo in meegesleurd wordt. Het hoofdonderwerp van het boek is natuurlijk kanker en dat is zeker geen licht onderwerp, maar meestal vind ik de verhalen wel erg mooi om te lezen. Dit is misschien, doordat ik er zo veel positieve verhalen over heb gehoord, nog wel het boek waar ik het meest nieuwsgierig naar ben.
What I think: Although I am not a reader, I have been following many different 'booktubers' for a while and if I had to mention one modern writer everybody goes nuts about, it is definitely John Green. Especially his book 'the fault in our stars' which was often described as an emotional roller coaster. The main topic of the book is of course cancer, which is a heavy subject, but I think books with that subject are often the most beautiful. So of all four books, I think I saved the best for last, because this is the one I am most curious about.
Do you have any book recommendations?