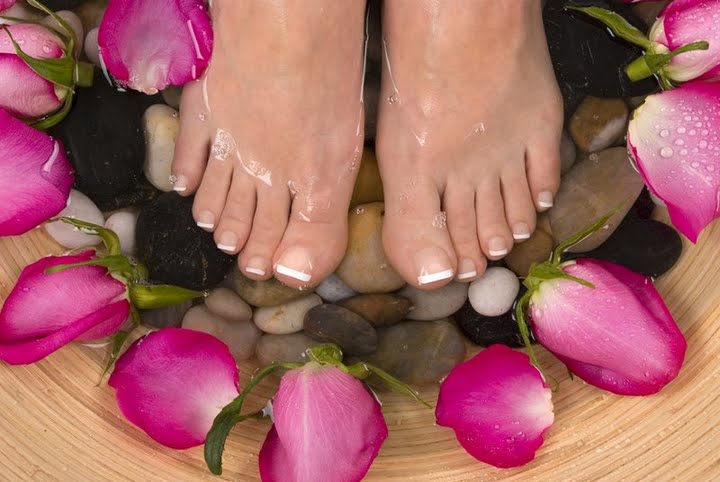 Although the weather here in the Netherlands will suggests otherwise, spring is just about to start. Or, we will just hope so! In a few weeks you might already be able to wear your flip flops again. So it is just about time for your feet to get spring proof. The supplies for your own foot spa? Those you can easily find online, for example with
the Hema discount code.
Hoewel het weer hier in Nederland nog even anders doet vermoeden, staat de lente te trappelen om te beginnen. Dat hopen we in ieder geval maar. Over een paar weken kun je misschien al wel weer op je slippertjes naar buiten. Het is dus tijd om je voeten eens even helemaal lenteproof te maken. De benodigdheden voor je eigen foot-spa? Die koop je gewoon online, bijvoorbeeld met deze Hema kortingscode.
The preparation
Your feet have been hiding in warm socks and boots all winter long. Probably you haven't given them as much attention as you normally would in summer and maybe there is even some old nail polish on your toe nails. Time for your own foot treatment! First remove the remnants of nail polish of toenails. Then pick up a special callus file or a pumice stone to remove all the calluses spots. Make a foot bath with warm water. To give your feet a little extra care, you can buy some of those special feet bath bombs. A dash of nourishing oil is also a good idea, for delicious soft feet.
De voorbereiding
Je voeten hebben de hele winter verstopt gezeten in warme sokken en laarzen. Waarschijnlijk heb je er al tijdenlang niet echt naar omgekeken en zit er misschien nog wel een restantje oude nagellak op je tenen. Tijd voor je eigen voetenbehandeling! Verwijder eerst de restanten nagellak van je teennagels. Pak daarna een speciale eeltvijl of puimsteentje om eeltplekjes te verwijderen. Maak een voetenbadje met lekker warm water. Om het extra verzorgend te maken zijn er speciale bruistabletten verkrijgbaar. Een scheutje verzorgende olie is ook een goed idee, voor lekkere zachte voetjes.
Scrubbing
Scrub your feet thoroughly afterwards. You can do by using a special foot scrub from the store, but also with a DIY scrub. For the DIY you should mix four tablespoons of salt or sugar with a little almond oil or coconut oil. Focus especially on your heels, toes and other hard spots. The scrub causes the dead skin cells from your feet to disappear and it also makes your feet look less gray. After scrubbing you should rinse your feet thoroughly and dry them completely with a towel. Don't forget the areas between your toes! Than rub your feet with a lovely nourishing cream. There are special foot creams available, but a nice body butter would also do the job. Skip your toe nails, they will come later on!
Scrubben
Scrub daarna je voeten grondig. Dat kan met een speciale voetenscrub uit de winkel, maar ook met een DIY scrub. Meng hiervoor vier eetlepels grof zout of suiker met wat amandelolie of kokosolie. Richt je vooral op je hielen, tenen en andere harde plekjes. De scrub zorgt ervoor dat de dode huidcellen van je voeten verdwijnen en ze er minder grauw uitzien. Spoel je voeten na het scrubben goed af en droog ze helemaal af met een handdoek. Vergeet ook de plekjes tussen je tenen niet! Smeer je onderdanen nu in met een lekkere crème. Er is speciale voetencreme verkrijgbaar, maar een lekkere bodybutter is ook erg fijn. Sla je teennagels over, want die zijn zometeen pas aan de buurt!
Cut your nails straight to avoid ingrown, then push your cuticles back a bit. To prevent the pigments from the nail polish to soak in to your nails, you first have to apply a base coat. Allow it to dry for a few seconds and then it's time for a fancy color. With
the discount at Wehkamp
you can buy some beautiful nailpolishes of Ciaté. Do you go for cheerful spring green? Or will it be classic red? Finish of with a top coat so the nailpolish will stay on nice and long! Even though it might take some time before we will be able to show our feet to the outside world without the risk of freezing, now we are finally ready for the sun!
Vrolijk kleurtje
Knip je nagels recht af, om ingroeien te voorkomen. Duw daarna je nagelriemen een stukje terug. Om te voorkomen dat de pigmenten uit de nagellak in je nagels trekken, lak je je nagels eerst met een basecoat. Laat deze goed drogen. Nu is het tijd voor een hip kleurtje. Met korting bij Wehkamp koop je mooie nagellakjes van Ciaté. Ga je voor vrolijk lente-groen? Of wordt het klassiek rood? Lak het geheel af met een top coat, zodat het lekker lang blijft zitten! Ook al duurt het misschien nog maanden voor je je voeten aan de buitenwereld kan tonen zonder bevriezingsgevaar, ze zijn in ieder geval helemaal klaar voor leuke slippertjes!
How will you prepare your feet for Spring time?
Guest Article