I played with your heart, got lost in the game... No, not that! I Went beauty sale shopping again! Like: AGAIN! This time I bought some products of limited editions from the 'sale basket.' Again, it didn't cost me a lot of money and I'm very happy with my purchases. Let's see what I bought.
I played with your heart, got lost in the game...
Nee, niet dat! Ik ben weer eens langs de kruidvat geweest voor wat
beauty-sale-shopping
. Ja, ik weet het: WEER! De laatste keer was nog geen week geleden. Toch kocht ik deze keer weer wat anders, deze keer ging ik nog even langs de 'sale bak' waar alle producten van oude limited editions in liggen. En ja hoor, daar ging mijn portemonnee weer! Toch ben ik erg blij met mijn aankoopjes, dus laten we maar snel gaan kijken wat ik dan gekocht heb!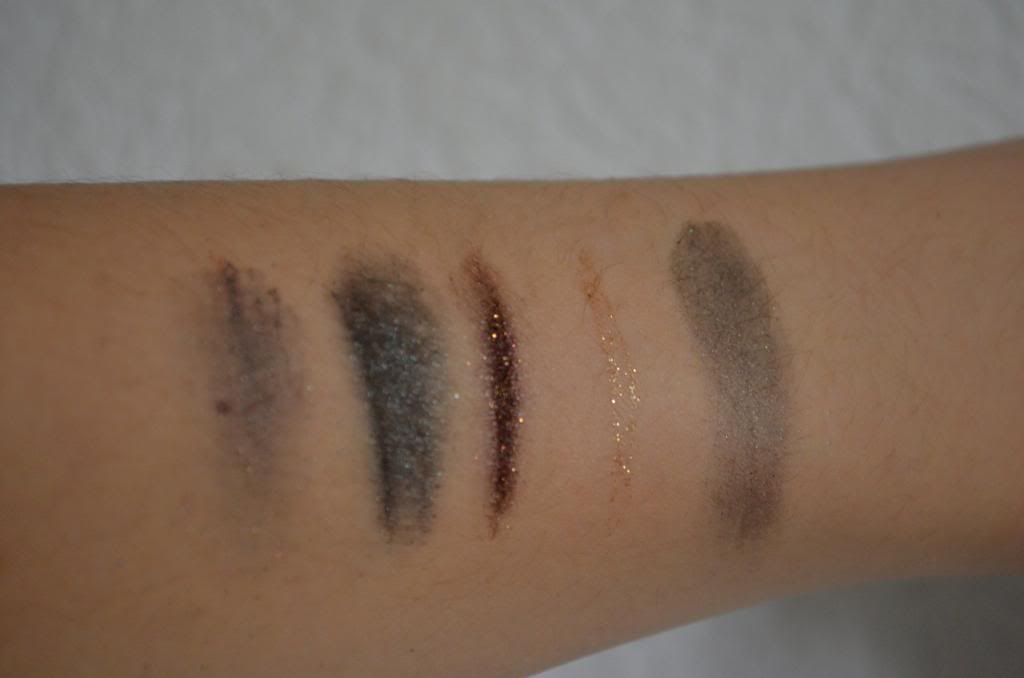 Essence 04 Edward's love - Essence 01 Jacob's protection - Gosh 05 Plummy - Gosh extreme art eyeliner 20 - Catrice



First of, I'm not that enthusiastic about the pigments of the Twilight collection of Essence. I just expected a bit more! Especially with the brown color. This one actually has loads of beautiful glitter, which you don't see that well on the picture, therefore it's probably more suitable as 'topcoat'. The pigment of Gosh has surprised me very positively, what a beautiful color and what a pigment! Very suitable for a festive look but also very wearable for daytime. Then the golden glitter eyeliner of Gosh, a good eyeliner, but unfortunately it doesn't had the overdose of glitter which I was secretly hoping for. Last but not least, the taupe eyeshadow of Catrice, a nice color for every day, but nothing special enough to run to the store, unless you're running for the beautiful pattern. (eyecandy!)




Van de pigmenten van essence ben ik iets minder te spreken, vooral van de bruine kleur had meer verwacht. Deze heeft wel veel mooie glitters die je op de foto niet ziet, het is daarom ook waarschijnlijk meer geschikt als 'topcoat' over een ander kleurtje. Het pigment van Gosh heeft me wel erg positief verrast, wat een mooie kleur en wat een pigment. Heel geschikt voor een feestelijke look, maar ook draagbaar voor overdag. Dan de gouden glitter eyeliner van Gosh, een prima liner, maar helaas geen overdosis aan glitter waar ik toch stiekem wel op had gehoopt. Dan het taupe kleurtje van Catrice, een mooi draagbaar kleurtje, perfect voor iedere dag, maar niet speciaal genoeg om voor naar de winkel te rennen, tenzij je het voor het prachtige patroontje doet dan! ;)




What is the last beauty product you bought on sale?