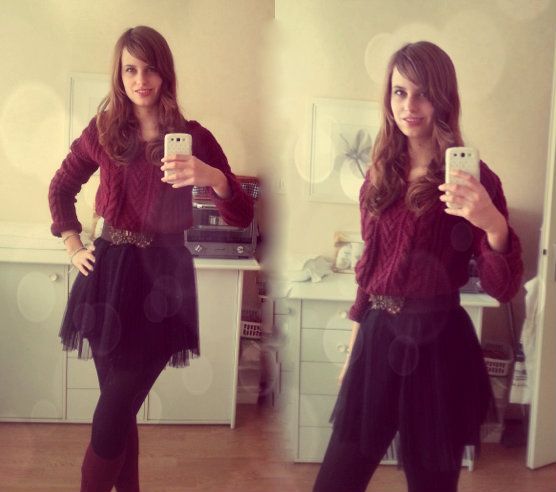 Maybe I'm a bit late with showing the outfit I wore at Christmas, but the reason why I've been waiting for such a long time is just simply because the pictures aren't the best quality. As you can see I made these pictures in a mirror, with my mobile phone. Bad ass, bad ass, I confess: completely guilty. But of course I was smart enough to forget my camera, so I was forced to use my mobile phone, which gave me this shitty result. But today I looked at the pictures again and I thought, why not give it a go. So I edited them a little to bring some life back at the pictures and although they're not the best quality, I really hope you like it! :)

Misschien ben ik wat laat met het laten zien welke outfit ik met kerst droeg, maar de reden dat ik hier even mee heb gewacht is omdat ik simpelweg geen mooie, duidelijke foto's heb. Zoals je ziet zijn deze foto's, á la spiegel-profiel-foto's, in de spiegel gemaakt. (in de bijkamer van mijn oma) Slecht, slecht, ik beken: helemaal schuldig. Maar ik was natuurlijk weer zo slim om mijn camera te vergeten. Nu ik er nog eens naar gekeken heb wou ik hem jullie toch graag laten zien, om nog een beetje leven aan de foto's te geven heb ik ze een beetje bewerkt. I hope you like it! :)


What have you worn with Christmas?