I'm so glad this week is finally over. Exam week is never fun, but some are even worse than others. That's also why you haven't been hearing a lot from me the past few days. Of course this will change. But, I'm doubting if you guys still remember who I am. I mean, it has been what, like five days? Allow me to introduce myself again.
Wat ben ik blij dat deze week eindelijk voorbij is. Toetsweek is natuurlijk nooit leuk, maar sommige zijn nog erger dan anderen. Vandaar ook dat jullie de laatste paar dagen niet zo veel van mij gehoord hebben. Daar komt zeker weer verandering in. Nu weet ik natuurlijk niet of jullie, na al die dagen, nog wel weten wie ik ben. Zal ik me maar even opnieuw voorstellen?
Where are you right now? - Waar ben je op dit moment?
In my bedroom, behind my Ikea desk. (which I really need to clean up, oops!)
In mijn kamer, aan mijn Ikea bureau. (die nodig een opruimbeurt verdient, oops!
What was the first thing you thought about when you woke up this morning? - Waar dacht je vandaag aan toen je wakker werd?
Today I'm not going to do anything for school, blogging only.
Vandaag ga ik lekker helemaal niks aan school doen, lekker bloggen en tijd voor mijzelf!
Single or in a relationship? - Singel of in een relatie?
Besides the loving relationship I have with my bed, I'm a happy single.
Naast de geweldige relatie met mijn lieve bedje, ben ik vrijgezellig!
I never really was all over some boyband or whatever, but he, if you'd ask me, I wouldn't mind finding guys like channing tatum or alex pettyfer living next to me. :)
Ik ben nooit echt een super 'famousguycrush' gehad, maar he, als je het mij vraagt dan zou ik het zeker niet vervelend vinden als ik een jongen zoals Channing Tatum of Alex Pettyfer naast me zou vinden. :)
What would you really want right now? - Wat zou je op dit moment graag willen? Spending some time with friends, going shopping, going to a party or something like that!
Wat tijd doorbrengen met mijn vriendinnen, lekker winkelen, uitgaan, gewoon iets gezelligs doen!

What's your goal in life? - Wat is je doel in je leven? In short: Being happy, staying happy, becoming even happier. Alright, you want the juicy details? Working in a (online) magazine, traveling the world with the love of my life and eventually becomming a mommy. O
In het kort: Gelukkig zijn, worden en blijven. Maar daar nemen jullie zeker geen genoegen mee? Ik zou willen werken in een (online) magazine, de wereld rond rijzen met de liefde van mijn leven en uiteindelijk een moeder worden.

How does your average day look like? - Hoe ziet jouw dagelijkse leven eruit?It all starts at 6 O'clock where I'll be snoozing my alarm until about 07.15, then I have to hurry to get to school on time. Then I usually have school till 16.00 and when I come home I usually make myself some food and have a quick talk with whoever is home. Then about 17.30 we eat dinner and afterwards I usually do some homework and blogging. Pretty boring hûh?
Het begint allemaal om zes uur 's ochtends wanneer ik mijn wekker net zo lang snooze tot het ongeveer kwart over zeven is. Dan moet ik me erg haasten om op school te komen. Aangezien een gemiddelde schooldag meestal acht uur duurt ben ik rond vier uur eindelijk thuis en klets ik nog even wat met mijn moeder. Om half zes gaan we met z'n allen eten en daarna is het al weer tijd om aan mijn huiswerk te gaan beginnen en nog wat te bloggen.

What is your biggest fear. - Wat is je grootste angst? To lose the people I love or to feel alone.
Om een dierbaar iemand te verliezen of me alleen te voelen.
Do you have your driving license? - Heb je je rijbewijs?
No, unfortunately not yet. But I want to start next year, after my exams and before I go to the university.
Nee, helaas nog niet. Maar volgend jaar wil ik gaan beginnen, na mijn examens en nog net voordat ik naar de universiteit ga. Klinkt als een goed plan toch?
Do you ever want to get married? - Wil je ooit gaan trouwen? Yes I do! I'm a hopeless romantic person and I feel like marriage is a promise you make to each other to love each other no matter what, I think that's a beautiful thing.
Ja ik wil! Ik ben en blijf een hopeloze romanticus en ik ben misschien ouderwets in de liefde, maar ik denk dat het huwelijk een belofte aan elkaar is om van elkaar te houden wat er ook gebeurt. Dat vind ik zelf erg mooi!
Are you a health freak? - Ben je een gezondheids freak?
Maybe a tiny little bit. I don't smoke, don't do drugs and I'm not the biggest alcoholist eighter. Also, since I'm a vegetarian, I read the labels on the food and I avoid not-natural additives.
Misschien een klein beetje. Ik rook niet, ik doe niet aan drugs en ik ben helemaal geen grote alcoholist of zoiets dergelijks. Ook, doordat ik een vegetariër ben, lees ik de labeltjes op het eten en vermijd ik niet natuurlijke toevoegingen.
What color and lenght is your hair? - Wat voor kleur en lengte heb je qua haar? My hair is light brown and it comes over my shoulders. (as you can see in this picture from a previous outfit post)
Mijn haar is licht bruin en het komt tot over mijn schouders. (zoals je ook kunt zien in deze foto uit een eerdere outfit post)
Which clothing/make-up item would you really want? - Welke kleding/make-up item wil je heel graag?
Clothing: A floral jeans. Gosh, I love those! They look so cheerful and summerish.
Make-up: The naked eye palette two and the real technique brushes.
Kleeding: een bloemen broek. Wauw, wat hou ik daar toch van. Ze zien er gewoon zo vrolijk en zomerachtig uit, heerlijk!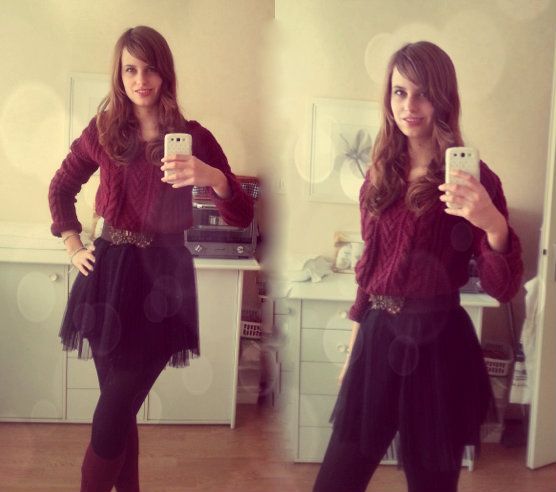 Do you have a tattoo or piercings? -
Heb je een tattoo of piercings?
No, but I might want to get a tiny little tattoo when I'm older.
Nee, maar misschien wil ik later nog wel een kleine tatoeage als ik wat ouder ben.
Favorite food/drinks? - Favorite eten/drinken?
My favorite food would have to be a salade, I love fresh food. Also I like bami and noodles (or mihoen). My favorite drink would have to be a fresh fruit smoothie, if I wasn't that lasy I'd make one every single day. Something I do drink (like four times) every day is tea.
Mijn favorite eten is toch wel een salade, ik hou gewoon van lekker fris eten. Ook hou ik erg van bami en van noodles (mihoen). Mijn favoriete drinken is een lekkere, verse fruitsmoothie! Mm, als ik niet zo lui was, dan zou ik er iedere dag eentje nemen! Ook hou ik erg van thee, hiervan drink ik soms wel zes kopjes van op een dag. Ik geef het graag toe: ik ben een theeleut!
Favorite icecream? - Favoriete ijsje? Alright, I know this goas agains all rules of nature: but I'm actually not that much of a icecream lover haha! Most icecreams are way to big or way to sweat! One I do think is delicious is the mars icecream! I can't get enough of that!
Oke, ik weet dat dit waarschijnlijk tegen alle wetten van de natuur in gaat: maar ik ben eigenlijk helemaal geen ijs liefhebber. De meeste ijsjes zijn gewoon veel te groot en vaak vind ik ze net iets te zoet. Een ijsje waar ik wel enorm van kan genieten is een mars ijsje. Daar kan ik nu echt niet genoeg van krijgen!
What is the last thing you bought? - Wat was het laatste wat je gekocht hebt?
Unfortunately it was a funeral bouquet for a friend of who her mother just passed away.
Jammergenoeg was dat het rouwboeket voor een vriendin waarvan haar moeder net overleden is.
Are you somebody who sleeps himself out or are you always up early? - Ben je iemand die wel houd van uitslapen of sta je altijd vroeg op?

I'm definitely not always up early, unless I know I have something real fun or important to do, than (even at Saturday/Sunday) you might find me awake at seven o'clock. But when I'm free I usually wake up about nine O'clock, so judge for yourself!
Ik ben zeker niet altijd vroeg op. Een normale vrije dag begint voor mij rond half 10, maar als ik weet dat ik iets super leuks of belangrijks te doen heb dan kan ik al voor zevenen mijn bed uit zijn!
With how many pillows do you sleep? - Met hoeveel kussens slaap jij?
*Counting* Usually with approximately six.
*Al tellend* Meestal ongeveer zes.

Are you a morning or an evening person? - Ben je een ochtend- of avondmens?Definitely an evening person!
Zeker weten een avondmens!
Are you organized or a mess? - Ben je geordend of rommelig? Well, I'm a organized mess, if that exists. No, everybody who'd know me would say I'm a big mess. But I actually know where to find everything and I like bringing structure in my room/computer.
Which movie would you love to see right now? - Welke film wil je op dit moment graag zien? Pitch Perfect, Magic Mike (still haven't seen that one yet!) and twilight part (what was it) 4?
Do you have any siblings? - Heb je broertjes/zusjes?
Yes, I have a brother, Sam, of 13 years old and a sister, Femke, of 11 years old.
Ja, ja ik heb een broertje, Sam, van 13 jaar oud en een zusje, Femke, van 11 jaar oud.

What are your plans for 2013? - Wat zijn je plannen voor 2013?
I actually wrote a post about this here!
Daar heb ik een tijdje terug een artikel over geschreven!
I just quickly wanted to thank Sophie of girlsnewz for tagging me! And I tag... everybody who wants to do this tag! If you've already done this tag, be sure to leave a commend with the link, I'd love to read it!