DIY pastel ring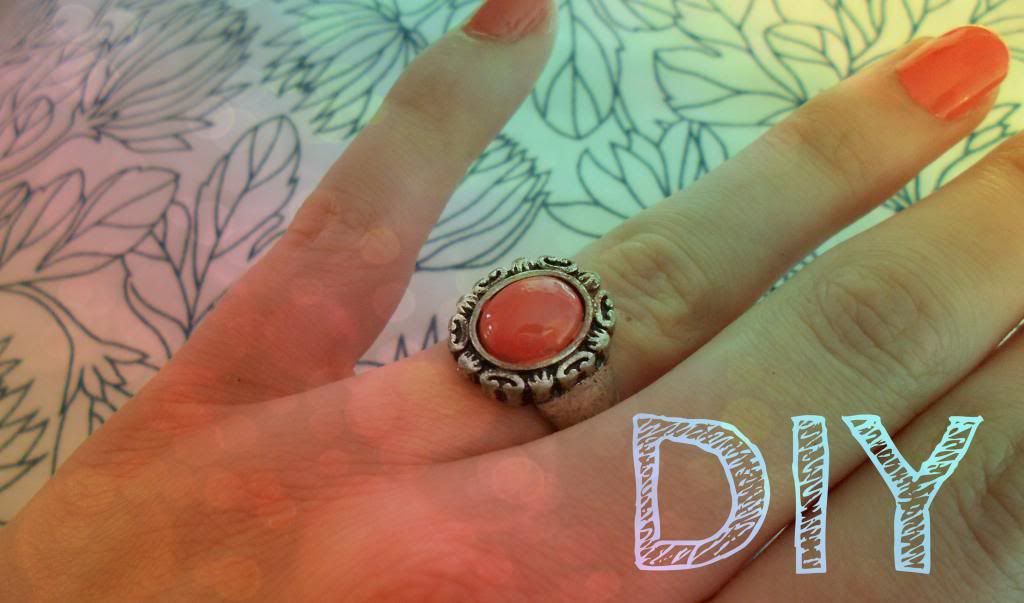 In my newest poll about which post you like most you guys said you would like to see more do it yourself articles. So today I have a nice DIY planned! It's such an easy thing to do, that I don't even dare to call it a DIY, but anyways. Let's start!
In mijn poll over welke artikelen jullie het leuks vinden lieten jullie me weten dat jullie 'do it yourself' artikeltjes meer willen zien. Jullie vragen, wij draaien. Dus vandaag heb ik weer een leuke DIY voor jullie in petto. Hij is zo simpel dat ik hem niet eens DIY durf te noemen, maar vooruit!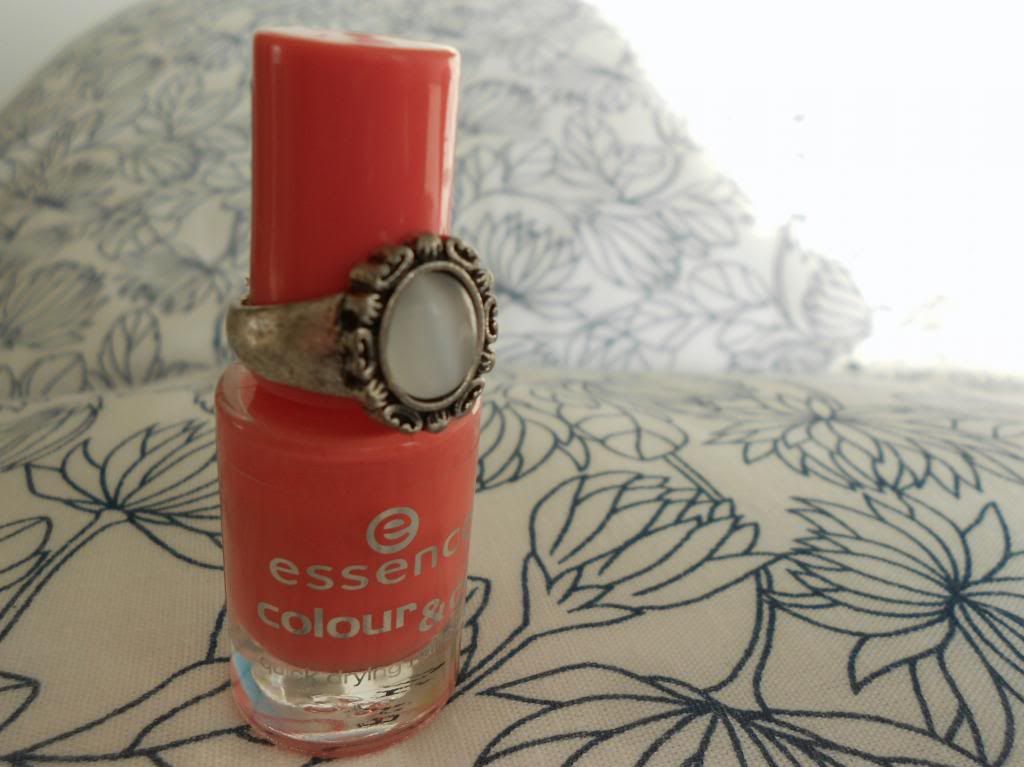 What you are going to need:
- Old jewelry which you don't mind painting on
- A nice nailpolish in your favorite color
Wat je nodig gaat hebben:
- Oude sieraden die wel een oppepertje kunnen gebruiken
- Een mooi kleurtje nagellak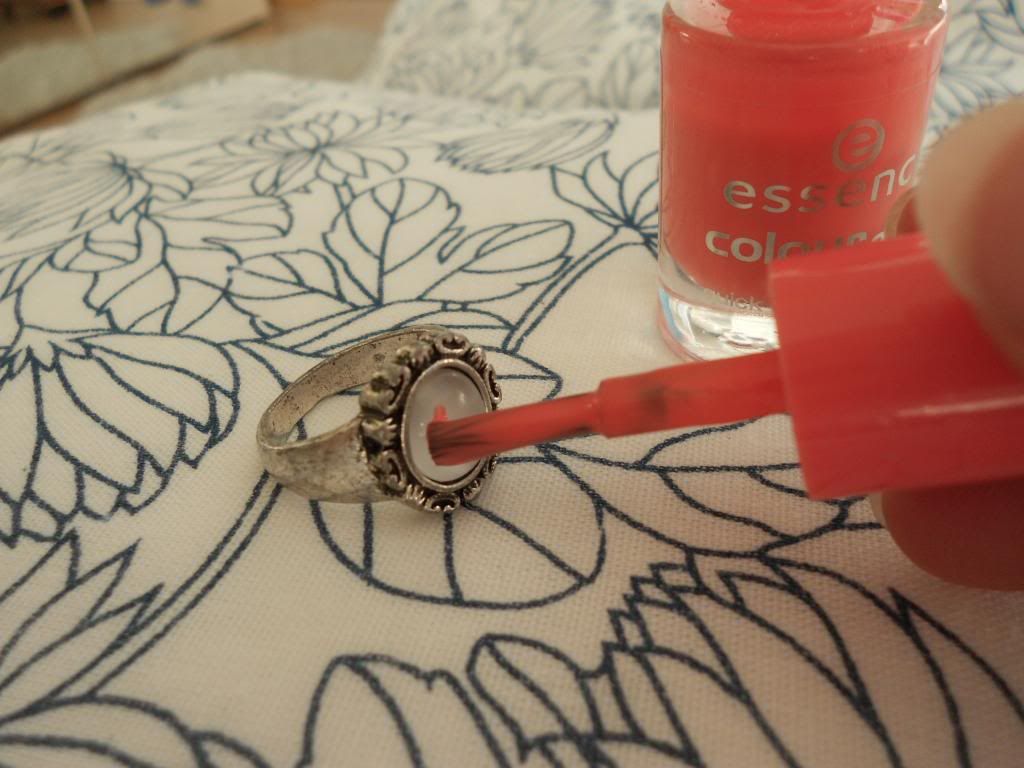 That's it, no difficult math today, just painting! If you've chosen your piece of jewellery, the best would be to chose one with a large surface to paint on, than we're good to go. I chose for a ring I would never wear, just because it never catches my eye. The nail polish color I chose is an coral color by essence: number 22. What do you think? Sometimes it could be a smart idea to cover up the rest of the piece of jewelry with tape, so the nailpolish won't come at the wrong places. For my ring, this wasn't really necessary.
That's it, geen hogere wiskunde vandaag, aan de slag! Je kiest dus voor een oud sieraad, het liefst een met een groot oppervlakte om te beschilderen. Zelf koos ik voor een ring die ik nauwelijks droeg, simpel weg omdat hij er niet uit sprong. De nagellak die ik koos is van essence: number 22. What do you think? kan het handig zijn het deel wat je niet gaat lakken te beplakken met plakband/tape zodat het sieraad niet vies wordt. Bij mijn ring was dit echter niet nodig.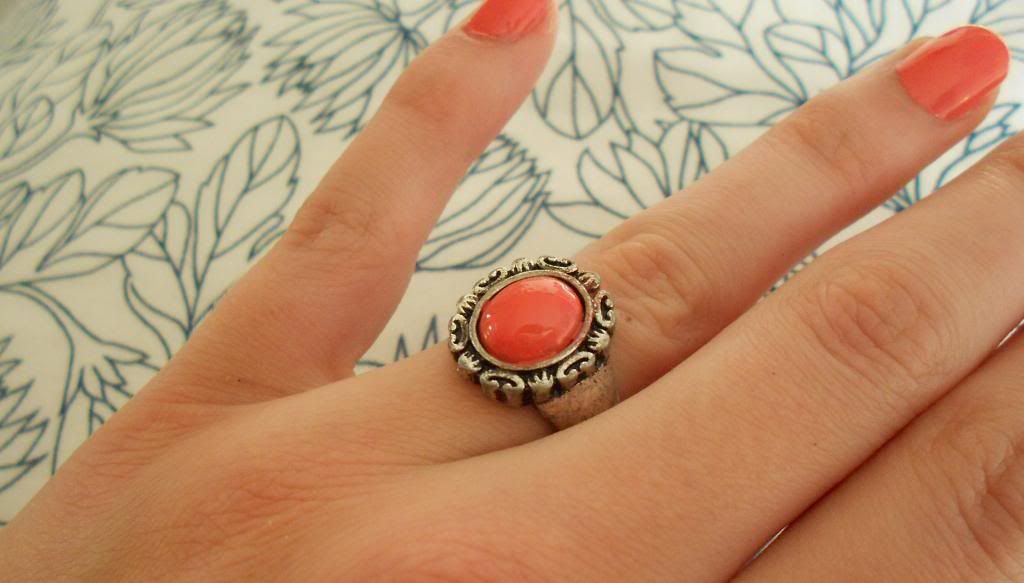 Than this is the end result! I think it worked out pretty well and the best thing: now I have matching nails and jewelry! Have you ever painted your jewelry to make it better before? And if not, will you now? I'm very curious, so what do you think? Oeh, and don't forget to let me know what kind of posts you like in the poll!
Daar is tie dan, helemaal af! Ik vind hem best goed gelukt en wat ook erg leuk is: ik heb nu nagels en sieraden die matchen! Heb jij al eens eerder een sieraad gelakt om hem beter te maken? En zo niet, zou je dat nu wel doen? Ik ben erg benieuwd, dus 'what do you think?' Vergeet ook vooral niet om de poll in te vullen!
xxx Sanne